rightsholder.io Announces Playlist Reports
rightsholder.io, a software company that develops tools to simplify the music licensing and catalog tracking process, has announced the completion of their new copyright identification tool for playlists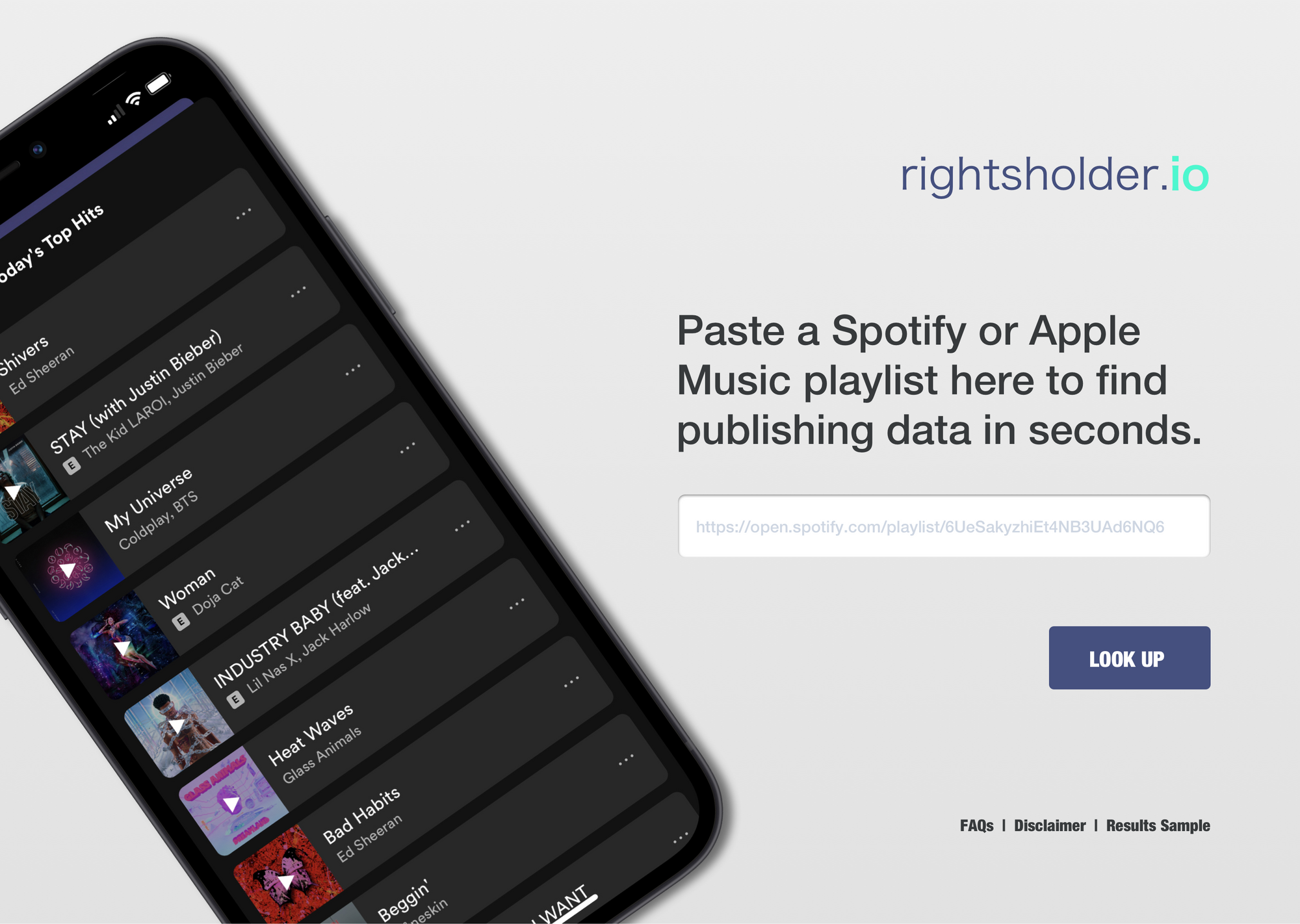 Designed for Music Supervisors to Quickly Find Music Ownership Data from their Apple & Spotify Playlists.  

May 23, 2022 (Atlanta, GA) - rightsholder.io, a software company that develops tools to simplify the music licensing and catalog tracking process, has announced the completion of their new copyright identification tool for playlists, designed to enable music supervisors to easily create a report of publishing and master recording ownership information out of their Apple Music or Spotify project playlists.
This new software tool created by rightsholder.io streamlines the process of licensing music for TV, movies, video games, and advertising by allowing customers to easily research multiple songs at once and receive ownership information within seconds. They can review the report online or download it as an excel file. This initial version allows for the importing of playlists from Spotify and Apple Music, with plans of expanding it to other streaming platforms. Anyone interested in using the new Copyright ID playlist tool can send an email to hello@rightsholder.io.
"When we first started rightsholder.io we made a promise to always listen to the needs and issues of the industry, especially in sync licensing," said Jarrett Hines, co-founder and CEO of rightsholder.io. "Most music supervisors create playlists to comp out their projects for clients, but consumer-focused music services don't reveal rights ownership information. Our new playlist tool makes it quick and easy to create a report of the copyrights so the sup can get a sense of what it will take to obtain the clearances for those songs."
Rightsholder.io was created by Atlanta-based MusicTechWorks to make insanely simple tools to facilitate music licenses. The company has developed a variety of services for both potential licensees and copyright holders, including a synch research tool, global copyright registration information, bulk catalog review, and more.
To learn more about rightsholder.io, visit rightsholder.io.
---
About MusicTechWorks
Music Tech Works creates insanely simple tools to facilitate music licenses. Founded in Atlanta in 2019 by music tech entrepreneurs Jarrett Hines and Bryson Nobles, the company's focus is to grow the value of recorded music by organizing who owns the rights to what tracks and simplifying the process of acquiring a license for non-statutory uses. Music Tech Works' first product, rightsholder.io, is a music copyright research platform that aggregates and organizes song catalog information to provide detailed ownership information and past use data, and then connects those who want to license music with the rights holders that can grant them a license. MTW's innovative approach was recognized quickly. It was selected for the Google for Startups Founders Academy, Project Music, Venture Atlanta Showcase, and the Techstars Music Accelerator. In November 2021, the company won MidemLab's international music tech startup competition in the Music Marketing & Data Analytics category. Music Tech Works has received early-stage funding from the Google for Startups Black Founders Fund and from Collab Capital.

Connect on social media:
Twitter.com/rightsholderio
Facebook.com/rightsholderio
Linkedin.com/company/music-tech-works

Media Contacts:
Laurie Jakobsen 917.697.2274 / laurie@jaybirdcom.com
Casey DeArmon 678.622.2692 / casey@jaybirdcom.com